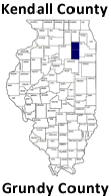 The Grundy/Kendall offices are located at 1320 Union St. in Morris and in the Old Historic Courthouse at 109 W. Ridge Street in Yorkville.  

Our outstanding licensure staff are willing to help you with all the necessary paperwork to keep your certification up to date.
Hours of Operation
The office will be closed for Thanksgiving on:
 Thursday, November 26th and Friday, November 27th.
M-F 8:00 am to 4:30 pm closed noon to 1:00 for lunch


EvaluWise - Teacher Evaluation Software:
Find out how EvaluWise can help save your administrators two to three hours per evaluation. The EvaluWise teacher evaluation software and app is the single most effective digital tool for streamlining and improving the teacher evaluation process, regardless of the evaluation model you are using. Licenses for EvaluWise include free iPad and Android tablet apps to make data entry as simple and easy as possible.
Parents and Guardians:
Download the Teens, Decisions and the Law publication to get critical information to help you guide your adolescent child toward healthy behaviors that avoid vehicle crashes, arrests, addiction, and other problems.
FINGERPRINTING BUS DRIVERS & STUDENT TEACHERS:
We are now a licensed Third Party Fingerprint Vendor and are able to fingerprint Bus Drivers and Student Teachers.
ETS ParaPro Test Price Change
Effective Monday, August 18, 2014, the cost for the ETS ParaPro Test increased from $50.00 to $60.00.